In April 2018 starten weer Cursussen Hoopdance 1 bij Parnassos Cultureel Centrum! 
In 7 lessen leer je de basis van hoopdance. Van de basis van hoepelen om de taille naar dansen met je hoepel on en off body.
De cursussen die in april starten:
Maandag 16 april 2018 Hoopdance 1 van 90 minuten van 21.00 – 22.30 uur
Woensdag 18 april 2018 Hoopdance 1 van 75 minuten van 17.30 – 18.45 uur
N.B.: De cursus van maandag is inmiddels VOL, op woensdag zijn er nog plekken beschikbaar! Inschrijvingen via Parnassos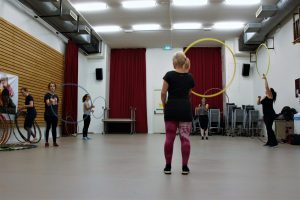 English:
New courses Hoopdance 1 start at Parnassos Cultureel Centrum in April.
Learn to hoopdance. We start with the basics of hooping around the waist and then each lesson you learn more moves and how to dance with them.
The courses that start are:
Monday April 16th 21.00-22.30 u Hoopdance 1 of 90 minutes (=Full)
Wednesday April 18th 17.30-18.45 u: Hoopdance 1 of 75 minutes (Still places)
Sign up through Parnassos Cultureel Centrum